Applying rounded corners to images
By default any images uploaded to your site will have square corners,however you can easily make your images rounded or round via the media manager.
To do this:
1. Navigate to the media manager by clicking on the media manager link in the main menu.
2. Click on the image you want to apply the corners to.
3. On the image edit screen select the type of corners you want to apply.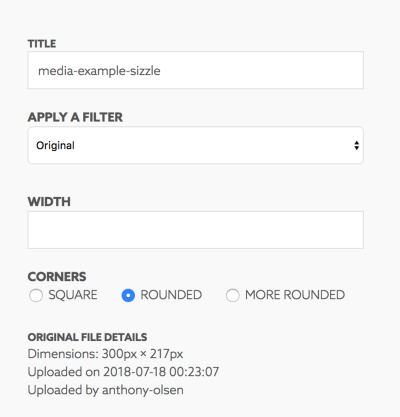 4. Click save image or save as copy.
5. After clicking save and navigating back to the media manager you will be able to see the image with rounded corners applied to it.
6. And the image will now be available in the media library modal window when inserting an image in your content or using it elsewhere in the Feelbettr dashboard.
Although discussed elsewhere, it is worth noting that you can also select new variants of this image in the media library modal window. As can be seen in the screenshot above even though you have applied rounded corners to the image you can also apply square cropped formatting and circle displays for the image. Applying these formats will override the saved format of the image.
Applying small, medium or large formats will preserve the rounded corners but display the image in small, medium and large formats.